Dr Krystal Evans was appointed Chief Executive Officer of the BioMelbourne Network in July 2014 and has over 15 years experience in the biomedical research sector. Krystal's skills in government affairs, stakeholder relations and business development underpin her commitment to advancing Victoria's unique position as a global destination for life sciences and health technology. A leading advocate for science and technology, Krystal was a founding member and Chair of the Australian Academy of Science's Early to Mid-Career Researcher Forum. A champion of the 2011 "Discoveries Need Dollars" campaign, she led the Melbourne "Rally for Research" to protect funding for medical research in Australia. Krystal is an articulate and popular spokesperson, and is a regular presenter on Melbourne community radio station 3RRRFM's science show "Einstein A-Go-Go".
*****

Have you ever had lunch with 410 women? It is a pretty amazing experience! Last Friday the BioMelbourne Network held their 7th annual "Connecting Women in Biotechnology" Lunch, which brought together over 400 women to celebrate shared success in the life sciences sector.
Many women with degrees in STEM who move away from academia go on to build successful careers in biotechnology, leading the development of new therapies and technologies in industry.
This year, the BioMelbourne Network decided to launch a new series of awards to celebrate, honour and profile outstanding women in leadership roles.
The biotechnology industry has an incredible depth and breadth of talented women, particularly compared to other technology sectors, like IT or energy. Many of the organisations that are critical for bringing a new drug or therapy to market are led, supported and powered by women. From research and discovery, commercialisation, clinical trials, government agencies, sales and marketing, investors, regulatory affairs, manufacturing, law, clinicians, designers, engineers, finance, there are women with science training pursuing rewarding careers in industry all over Australia.
The inaugural BioMelbourne Network "Women in Leadership" and "Emerging Women in Leadership" awards recognise women at different stages in their careers. The awards honour and profile women who have made outstanding contributions, who "give back" to the sector through mentoring and engagement, and who show a commitment to innovation with an appetite for risk in pursing their goals.
The BioMelbourne Network "Women in Leadership Award" for 2015 was presented to Dr Elaine Saunders, Managing Director of Blamey Saunders Hears.
Dr Elaine Saunders is an award winning audiologist, inventor, and entrepreneur with over 40 years of clinical, research and business experience. Elaine led the team that developed the first of a new generation of implant electrodes for Cochlear, and then went on to further commercialise the amplifier in the implant which is now used in millions of hearing-aids, headsets and implants across the world.
Today, Elaine leads "Blamey Saunders Hears" a tele-health company who supply affordable, discrete and highly effective hearing aids. Their innovative and disruptive approach supplies direct-to-consumer, using a world-first system that connects hearing aids to a smartphone application so that users can adjust their own settings.
Elaine is a well known social entrepreneur and advocate, and is the Executive Director of the Rotary International Action Group on Hearing. She willingly shares her experiences, offers advice and supports the careers of those around her and is a passionate communicator and commentator on hearing issues.
With a life-long commitment and drive to find innovative solutions for improving the lives of those with hearing loss, it is an honour to award Dr Elaine Saunders the BioMelbourne Network "Women in Leadership" award for 2015.
The BioMelbourne Network "Emerging Women in Leadership Award" for 2015 was presented to Dr Megan Baldwin, CEO of Circadian Technologies.
Megan's career to date exemplifies her determination and capability to advance innovative therapies for the benefit of patients.
Since completing her PhD in 2001, Megan has made the successful transition from bench research to a career in drug development and commercialisation with a focus on therapeutics for eye disease.
Megan was appointed CEO of Circadian only 15 months ago and in that time she has undertaken a bold corporate restructure and has refined the company's product pipeline to focus on ophthalmic disease therapies.
Last year she undertook an exciting and successful capital raising of $17.4 Million, an achievement that represented twice the market capitalisation of the company. This has enabled Circadian to progress the development of their lead molecule for the treatment of age-related macular degeneration, with clinical trials scheduled to start in the US shortly. Megan is a generous and accessible mentor with a team focus and a genuine commitment to growing the local industry here in Melbourne and Australia.
A rising star on an ongoing journey in the biotechnology sector, it is an honour to present Dr Megan Baldwin with the BioMelbourne Network "Emerging Women in Leadership Award" for 2015.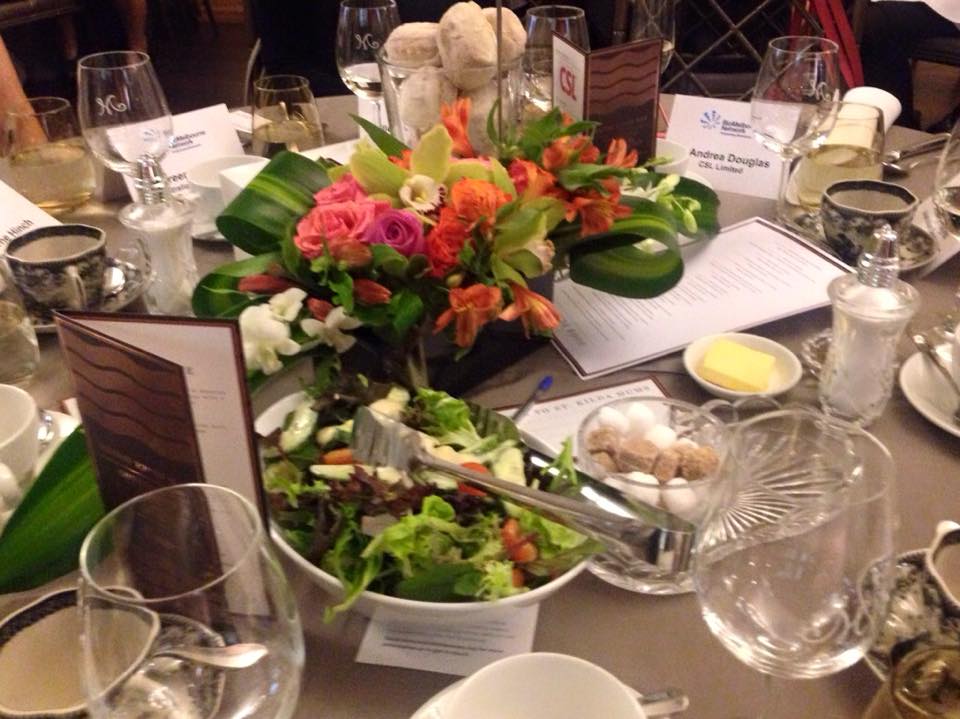 Leadership is the capacity to translate vision into reality and it is fantastic to see women in industry who are combining science and business to make a big difference in the world!
For interviews with Dr Baldwin, Dr Evans and Dr Saunders (by phone only as she is overseas) contact Tania Ewing on 0408378422