Wonderful. You've made the right step – you're in science.  That means you know how to pose a question, collect data, and propose an answer to the question.
That's a critical skill for careers and enables you to transition from science to almost anything from medicine to business.
I must confess that I did a science degree because my Dad, whom I regarded highly, told me I'd be mad to do anything else. But it was my choice to study chemical physics, which fascinated me at school. Well, it was the early seventies. My personal choice of university was narrowed considerably to those that offered chemical physics and an athletics track (my other passion).
I have always been thankful for my undergraduate subject choice, although it was hard going at times.
At some point I realized, in a moment of unusual introspection, that I was good at seeing practical solutions to problems. This might be innate, but is more likely due to an absorption and automatic use of all that scientific method, and it now rolls over into being able to develop innovative business and marketing strategies.
I have never been particularly good at conforming, unless I could see a good reason, so armed with a background in STEM, a desire to use it all in the pursuit of good, and a resistance to conformity, it seems I am well equipped to be an entrepreneur in the areas of social good.
My career theme has been hearing, but I've crossed between research and academia, clinical, development and entrepreneurship many times.
I have four gorgeous children, now all in their 20's, which necessitated about eight years of having a rather flexible approach to career, but today I don't consider any of my career experiences to be irrelevant. I also count myself lucky to be broadly scientifically literate, outside my special areas of expertise, which I believe helps me to be a reasonably good corporate citizen.
In truth, I haven't often thought about being a woman in science.
My first job in hearing (before University) was that of being a teaching assistant in a school for deaf children.  This was before cochlear implants and when hearing aids didn't work that well.  In that time, I learnt that I didn't want to teach, but I did want to help people hear better. Little did I dream that forty years later, I would lead and own my own hearing aid company, with the world's leading hearing aids, containing tiny computer chips, that could be self-fit or programmed from afar over the internet.
I guess I am just a person in science with a determination to pursue goals when I spot them – let's call that responding to, or creating, incremental opportunities.
Like most people, I have had moments when I couldn't see the next goal.  But I have found that the next goal always presents itself eventually. In the meantime, I have always tried to be the best I could in whatever I was doing.
In the words of Simon and Garfunkel:
"Because a vision softly creeping,
Left its seeds while I was sleeping,
And the vision that was planted in my brain
Still remains"
About the author: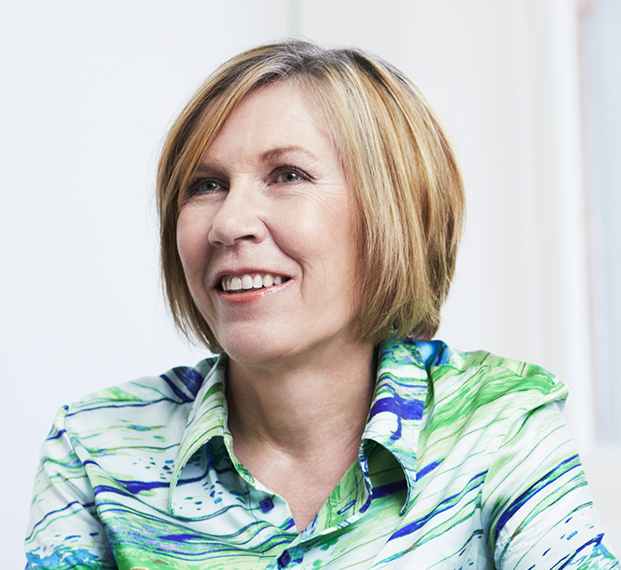 Dr Elaine Saunders, hearing expert, audiological scientist, author, speaker and Social Entrepreneur, is an advocate for empowering people with hearing difficulty. MD of Blamey Saunders hears – an Australian business that provides affordable, high quality hearing aids people can easily customise themselves.  Elaine is a highly regarded community speaker, Australia wide. Contact her for topics on communication on 03 9008 6371.
Blamey Saunders hears' hearing aids use technology found in the bionic ear, and incorporate many other top quality features, including wind noise reduction. They have 64 channels of comfortable sound, thanks to technology developed in Australia. Clients are supported by a comprehensive tele-health support model unique to Blamey Saunders hears, operated by Elaine's team of 30 people.
Elaine leads an audiology clinic team and is active in research,   student mentoring and supervision.  Her team has launched an online hearing test that analyses hearing for speech sounds. She is also on the Board of ANFF, and on several advisory boards. She is an active Rotarian. Qualifications: BSc (Hons) Chemical Physics; MSc Audiological Science (clinical); PhD Biomedical Engineering; Graasd Dip Technical Management, GAICD.

Awards:  Melbourne Award for her work on hearing in the community, 2012; National  Telstra Business Women of the Year Award (Government Private and Corporate Sector,2004); Churchill Fellowship (studies in hearing); American Academy of Audiology's Samuel Lybarger industry award (2010) for contributions to hearing  research; Leading Woman in Healthcare, Women in Leadership Forum, Asia, 2011; Pearcey Award: Entrepreneurship in ICT (Vic);   Better Hearing Australia ,Peggy Donald Award 2010 (2nd place, 2010, 1st place  2012); finalist Telstra Business Awards 2012, 2013; BioMelbourne Network Leadership Award, 2015; Cool Company Award 2016.
Elaine's career story is published in Sound of Silence (New Holland, 2015) and is available at www.blameysaunders.com.au. Follow Elaine on Twitter: @hearingselfhelp