I've been involved in podcasting for a number of years now. It's a hobby of mine that allows me to play with media production things and talk to interesting people. I started out in 2007 talking about Free and Open Source Software and have since then produced a few different shows.
Four and a half years ago I released an episode of a podcast called Purser Explores The World, entitled "Communicating Science". I spoke with three awesome women, Magdeline Lum, Upulie Divisekera and Maia Sauren about how they communicated science. You can listen to the full episode here.
From there I took the idea of science communications and turned it into another podcast called "For Science!". Featuring myself, Magdeline Lum, Maia Sauren and later Melanie Thomson, we recorded every fortnight and covered the science news of the last two weeks, discovered new things and generally had a ball doing it.
After 29 episodes, "For Science!" came to an end and I sort of fell into a rut with regards to podcasting.
Reignition
A couple of years go by, things happen in life and podcasting has taken a back seat. That is until earlier this year. I finally feel able to take it up again, devote the time and energy required to find the people to talk to and interview them. But what should I do?
Twitter provided the answer. I was watching yet another discussion about women in STEMM (science, technology, engineering, maths and medicine) and it always seemed to revolve around the same small core of famous dead scientists. Marie Curie, Ada Lovelace and the like. I thought to myself, but what about the women who are doing STEMM today? Where can we hear about them? Hear their stories?
I came across Women in STEMM Australia soon afterwards and noticed that "For Science!" alumni Maia Sauren and Melanie Thomson were on the Executive and thought, "Well that's it then. That's what I'm going to do."
My first challenge was to find women who would feel comfortable taking part in the project. Let's face it, agreeing to be on a podcast is for many of us, a bit confronting. Luckily I had built up a network of women when I was doing "For Science!" and was able to call on the inestimable Melanie Thomson to launch the project. Astrophysicist Katie Mack was the second interviewee, and both of them proved to be excellent subjects.
Once I had a couple of interviews in the bag so to speak, I was able to point to these as examples and say "This is what I want to do, would that be okay?"
I decided from the outset that it was important to get as wide a range of interviewees as possible. This meant talking to those women who already have public profiles (thanks Katie and Mel) as well as those whose work in their fields may be less well known amongst the wider public. I am also conscious of ensuring that I try to get as wide a range of backgrounds as possible. The women I want to speak to come from English and non-English speaking backgrounds, came to STEMM early or only discovered a passion later in life. It's these journeys and how they shaped the interviewees approach to STEMM and life that I'd like to hear more about.
Why podcast about today's women in STEMM?
I'm not just doing this because I want to talk to interesting people (though to be honest, that's always a bonus). I think it's important that we hear the stories of women who are 'STEMMing' in the here and now. We need to hear how they have dealt with the challenges they have faced in their career, both personal and professional, both to understand what they are dealing with, and to help call out problems that until recently have been dismissed as just how the sector works.
If these podcasts can help just one woman understand that she's not alone, that there are others out there who can help, then that would be awesome.
So far I've released five episodes of the podcast, and I have another two ready to release over the next three weeks. Each and every interview has been different, but one thing shines through them all. It doesn't matter what the field, whether they are a researcher or lab manager, whether they are inside or outside of academia, every single woman I've spoken with still has that passion for STEMM in their voice. They still want to learn new things and push the edges of their own – and our – understanding of the universe.
You know what? That's the payoff for this whole project for me. Talking to people who manage to maintain the childlike urge to keep asking "Why?" and turn it into the most amazing things.
You can keep up with the Women In STEMM podcasts here. If you want to find it on itunes go here.
About the author: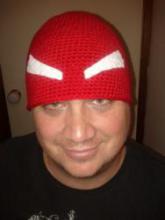 James Purser is a podcaster with a deep and abiding passion for science and exploring the wonders of the universe around us. He has been creating podcasts since 2007 and has covered topics as diverse as Free and Open Source Software, the rise of Urban Farming and the development of Citizen led disaster management. His greatest contribution to Science Communication until now has been the "For Science!" Podcast. A fortnightly series that looked at the science news and tried to dig a little deeper and explore it a little more. You can find his work as Producer and Presenter at http://angrybeanie.com where he is currently releasing new episodes of Women In STEMM on a roughly fortnightly basis.