In early November 2016, just as the votes from the US presidential campaign were being counted, I set off on a dash across the globe, to make it in time for my panel session for the Gender Summit, hosted by the EU Parliament in Brussels. Below is the info from the conference website: 
"The Gender Summit is a platform for evidence-based and consensus-focused dialogue between scientists, policy makers, gender scholars, and key stakeholder groups in science endeavours. The Gender Summit Europe 9 2016 coincided with important policy developments in Europe and globally that look towards science knowledge and technological innovation to create a better future for all.  Significant here are: the new EU Gender Action Plan and Horizon 2020; the UN Sustainable Development Goals; the African Union's Africa 2063 and Continental Education Strategy Africa agenda; and the OECD vision for Inclusive Innovation and Creating Our Common Future through Science and Technology.  It was an excellent programme featuring over 65 international speakers. You can download the presentations and posters via the GS9 Programme page."
I arrived directly from my Sydney flight, with a scant 30 minutes to spare, logged into the conference centre wifi, to find Hilary and Imogen had left me increasingly worried DM messages as to my whereabouts, on my Twitter account (the social media platform on which we formed and maintained our international professional relationships).
I headed up to the allocated room to find them waiting at the back for the previous session to finish. It was Imogen that broke the news of the Trump victory in the US election, which stunned my jet-lagged mind into incredulity. Hilary confirmed that this result was indeed correct and I spent several surreal moments reeling in timezone-induced shock. It was almost a year to the fateful day I had first met Imogen on a side trip to Toronto, in which she and Dawn Bazely hosted me, in order to get me present the narrative of the formation of the SAGE program in Australia, on the auspicious date of Guy Fawkes Night (remember, 5th November, 2015, for treasonous plots to overthrow the white male dominated system!).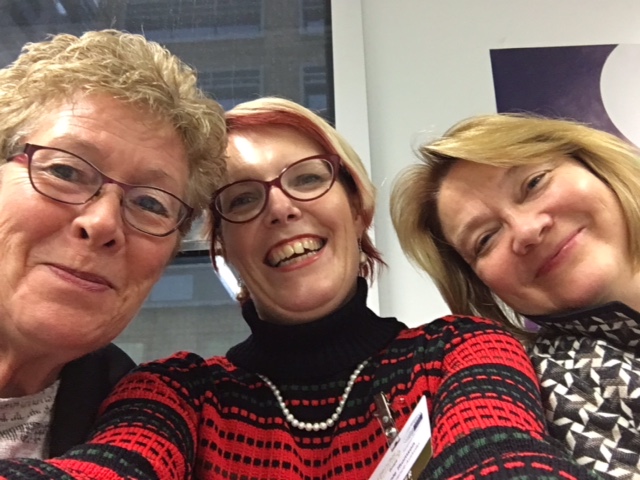 Our Session was Parallel 2C: Framework for international collaboration to improve institutions and accelerate change
"This session will discuss the power of sharing narratives around successes and failures of practices aimed at improving gender equity in STEM and public life. It will also examine initiatives that address inclusivity of indigenous peoples, and other underrepresented groups, to speed up adoption of equality programming in all parts of the world."
Links to speakers' profiles below:
Hilary started us off, as the most senior representative, to give the overview of how we came to exchange best practice at an international level. She briefly covered the UK approaches, including the Athena SWAN charter and the associated accreditation programs to improve inclusion of women and other under-represented groups in UK Academia.
After a description of the indigenous acknowledgement of country (which included recognising the traditional owners of the lands on which I live and work when in Australia), I followed on with 'Equity and Diversity in STEMM:  Australia's current efforts' . 
Firstly, I introduced the extensive network of Women in STEMM Australia and its goal to connect all women in STEMM across different professional sectors, followed by a 'nuts and bolts' description of the AAS/ATSE led SAGE program which aims to adapt Athena SWAN program for the local conditions in Australia (information kindly provided by SAGE Executive Director, Dr Wafa El-Adhami). I sketched its early beginnings as a movement with several kind individual sponsors and senior supporters, to the widespread uptake by most of the institutions in the Australian research community (helped by further funding under the Australian Federal Government NISA Agenda). I also spoke of the importance of intersectionality and how Australia was going to have to include elements for Indigenous inclusion, a topic that the Canadian and New Zealand audience members found enlightening.
I then spoke about the 'Male Champions of Change' movement in Australia including details of the 'panel pledge' and the newly formed specialist STEM male champions of change sub-grouping, again, funded under the NISA Agenda.
I finished with information on WEHI's indigenous reconciliation action plan (RAP) details of which had been kindly provided by Louise Johansson. I also mentioned that Dr Misty Jenkins was now to take her place as an Affiliate on the WiSA steering committee, as a couple of us had stepped aside for the talented women 'knocking on the door'.
Imogen then gave the traditional Indigenous Canadian welcome before starting her talk about the progress (or relative lack of progress, compared to the UK and Australia) for equity, diversity and inclusion efforts in Canada. She covered the constraints and barriers, such as the provincial system of decentralised government and a lack of strong leadership from the local Learned Academies.
Imogen's main messaging was 'fix the system, not the women' and covered the need for evidence based practice that required the meticulous collection of granular hence useful data, that can be used to internationally bench mark national programs. She spoke of 'intentionality' of purpose which would require high level 'buy in' and leadership.
The Welsh 'fair play' team presented their program (link above) then we took questions from the floor.
We had a couple of questions on surrounding the 'carrot and/or stick' drivers that could be used (most notably from a senior executive of a major Canadian Research Grant funding body) as well as queries on the possible opportunities for individual NZ institutions to 'buy in' to the Australian SAGE pilot, due to inertia from their local Learned Academies on the topic.
I then jumped on the tram then the Eurostar train to London, as the next day we had a date to meet up again at the UK WISE Campaign's Annual awards dinner, for which I had previously helped get Hilary short listed for the 'Hero of the Year' award for her international efforts to bring about best practice in programs for women in STEMM.
It was a gala affair at the Grand Connaught Rooms and was lovely to see the tears of joy forming in Hilary's eyes as she was announced the winner of her category and see the charity's Patron, HRH Princess Anne, give her the gong. It was wonderful to spend time with the Swansea University crew, which included several members of the senior HR team. It was clear Hilary is a Hero to many in the Equity and Diversity space.
Thank you to Women in STEMM Australia for paying my airfare to these events and to Imogen and Hilary for your efforts to secure the GS9 workshop. This year, the Gender Summit 10 is in Tokyo in May….so a bit closer to us Down Under!
About the author:
Dr Mel Thomson is the General Manager of Education, Skills and Events at the Industry Growth Centre MTPConnect. She completed her Honours degree in microbiology and immunology at the University of Melbourne in 1998. She then migrated to the UK where she worked on various projects as diverse as allergy and cancer before undertaking further studies. She completed a Masters of Research then a PhD in microbial genetic regulation in Neisseria species, both at University of York, UK. After the award of her PhD in 2009, she became interested the host-pathogen interactions at the Leeds Institute of Molecular Medicine, UK. Dr Thomson returned to Australia in 2011 to start her own research group at Deakin Medical School and the Geelong Centre for Emerging Infectious Diseases. A passionate science communicator, she has become a national 'torch bearer' for the concept of crowd funding academic research, which a track record of three successful 'Pozible' crowd funding campaigns, 'Mighty Maggots', 'Hips 4 Hipsters' and 'No more Poo Taboo'. Mel is very active on Twitter (@DrMel_T) with over 10.1K people following her and she remains involved with advocacy for women in science both nationally and internationally. Mel  completed her term on the Women in STEMM Australia Executive in August 2016 and we thank her for her ongoing support and unrelenting advocacy! We wish her all the best for the future!