Do you ever look at the leaders we have in science and wonder when you will see someone who looks and leads like you? I had been asking myself this question for many years when a seemingly innocuous email in August 2015 caught my eye. It mentioned the Homeward Bound initiative to take 76 female scientists from around the world to Antarctica in December 2016, teaching state of the art leadership and strategic skills along the way.
My long-term love of penguins and the work I have been doing as Chair of the Astronomical Society of Australia's Inclusion, Diversity and Equity in Astronomy Chapter (IDEA) encouraged me to apply, even though it would mean being away from my now 4 year old son for 3.5 weeks. It was also an expensive initiative (US$15,000 plus flights) so I asked my employer (Australian Astronomical Observatory) whether they would fund me. I as very grateful that they agreed!
Only 3 short weeks later when I found I had been accepted, I just felt uncertain, I had no idea what attending this program would really mean. I did not really know what leadership meant, I just thought it could be done differently to what I was seeing around me.
In the year before our departure we took various tests to understand our thinking and behavioural styles as well as our emotional intelligence (4MAT; LSI and MSCEIT tests) and were privileged to discuss the results with development coaches who volunteered their time to help us on our journey as leaders. We also started to get to know one another through monthly teleconferences; small project teams and Australian state-based meetings as well as active Slack and Facebook pages.
In December 2016 76 women of a range of ages and nationalities and science backgrounds – social scientists, mathematicians, geologists – as well as 5 film crew, our 2 expedition leaders: Greg Mortimer and Monika Schillat and 6 faculty including the indomitable Fabian Dattner whose vision, drive and determination brought us all to this place in time, all descended on a hotel in Ushuaia, at the southern tip of Argentina. I still felt uncertain, but with a growing exhilaration that this was actually happening, I was going to Antarctica! And I was going with these incredible women!
The stunning Antarctic [Images: S. Brough]
Our ship and home for the next 20 days was the class 1C icebreaker M/V Ushuaia, operated by Antarpply. We were very lucky with the weather and the notorious Drake Passage crossing was so calm that we started work early. The idea behind our on-board lessons was that the best leaders know themselves so we were encouraged to understand our own behaviour. We used the tests we had taken before the trip to understand our thinking and behavioural styles as well as our emotional intelligence.  We saw that we all looked for the same things in a leader: someone with a constructive, human-focussed style and a lack of aggressive or passive defensive responses. It made me realise how much some of my thinking styles hold me back but also gave me tools to reframe those styles.
We thought carefully about our own values as leaders, our motivations in wanting to be leaders as well as defining what we saw leadership to be. We worked together in triads, challenging one another to clarify our thoughts. I saw that not everyone has the same values or motivations in their leadership aspirations.
We thought about our current visibility in our communities and what we wanted that visibility to look like in the future. I realised I want to be more visible outside of my immediate science community, sharing my expertise with a broader audience. We prepared personal strategy maps to plan how we would move forwards after leaving the ship.
There was also Symposium@Sea – 3-minute presentations from everyone. This allowed us to see the 'expert' side of one another and practise how to communicate to the four different learning styles we had identified. After the first session of presentations, and the feedback provided, I knew I had a lot of work to do on my own presentation. Discussing this with others inspired me to find a topical analogy between the unseen 90% of the galaxies that I study and the 90% of icebergs that is underwater.
Our lessons were intermixed with daily landings in the Antarctic. I got used to the routine of changing into many layers ready for briefing by our Expedition Leader and then off onto the adventure that the landing would bring. Experiencing the cold, the cacophony and stench of penguin colonies (Adélie, Chinstrap, and Gentoo), as well as the beauty of the Antarctic colours, the sheer bulk of elephant seals, the surprise discovery that those were not rocks but Weddell or Crabeater seals. We saw scads of whales and enjoyed beautiful rocks, glassy water, mountains criss-crossed with snow as well as the peaceful sounds of water and the less peaceful sounds of ice. There was also fun – we slid down snow-covered hills, running back to the top of the hill from the bottom just to do it again.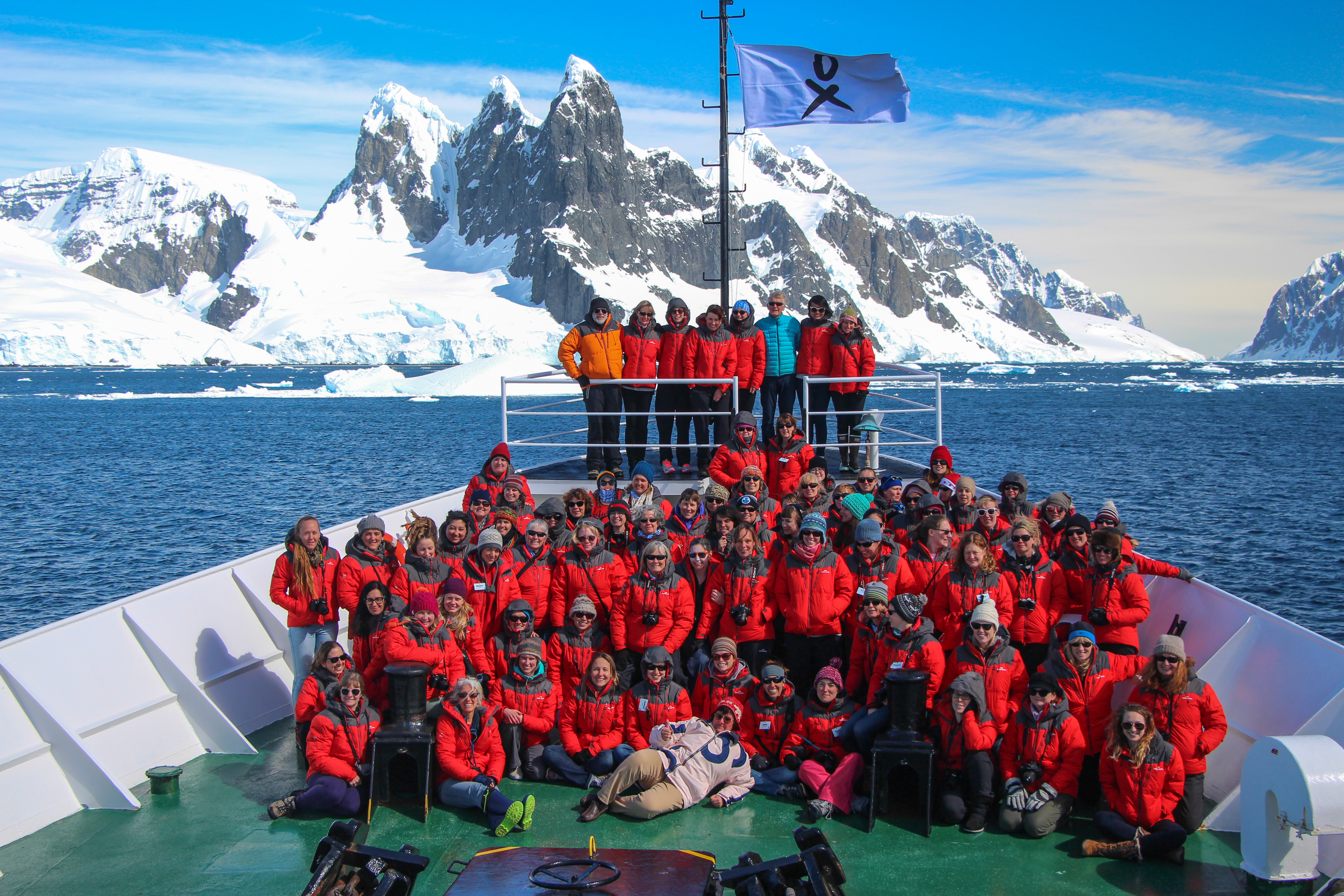 Human mixing was encouraged: Landing with people we had not spoken to yet, getting up and sitting somewhere else in the lounge room we worked and socialised in. Trying to talk to everyone became the norm. With those conversations came nuggets of thought and insights into different ways of thinking. Slowly we got to know one another and to have deeper conversations. I was having a steady stream of insightful, life-changing, conversations with this awesome group of women.
As a result of Homeward Bound, I realise that I am already a leader. I do not need to feel comfortable or get it right the first time; I just need to be courageous and keep trying. And now I have a network of 76 amazing women in science to help me do just that.
Are you a leader?
Homeward Bound has now selected another 76 women in STEMM to go to the Antarctic – Women in STEMM Australia wishes them all the very best! But there is always next year and beyond -so dream big and go for it!
About the author: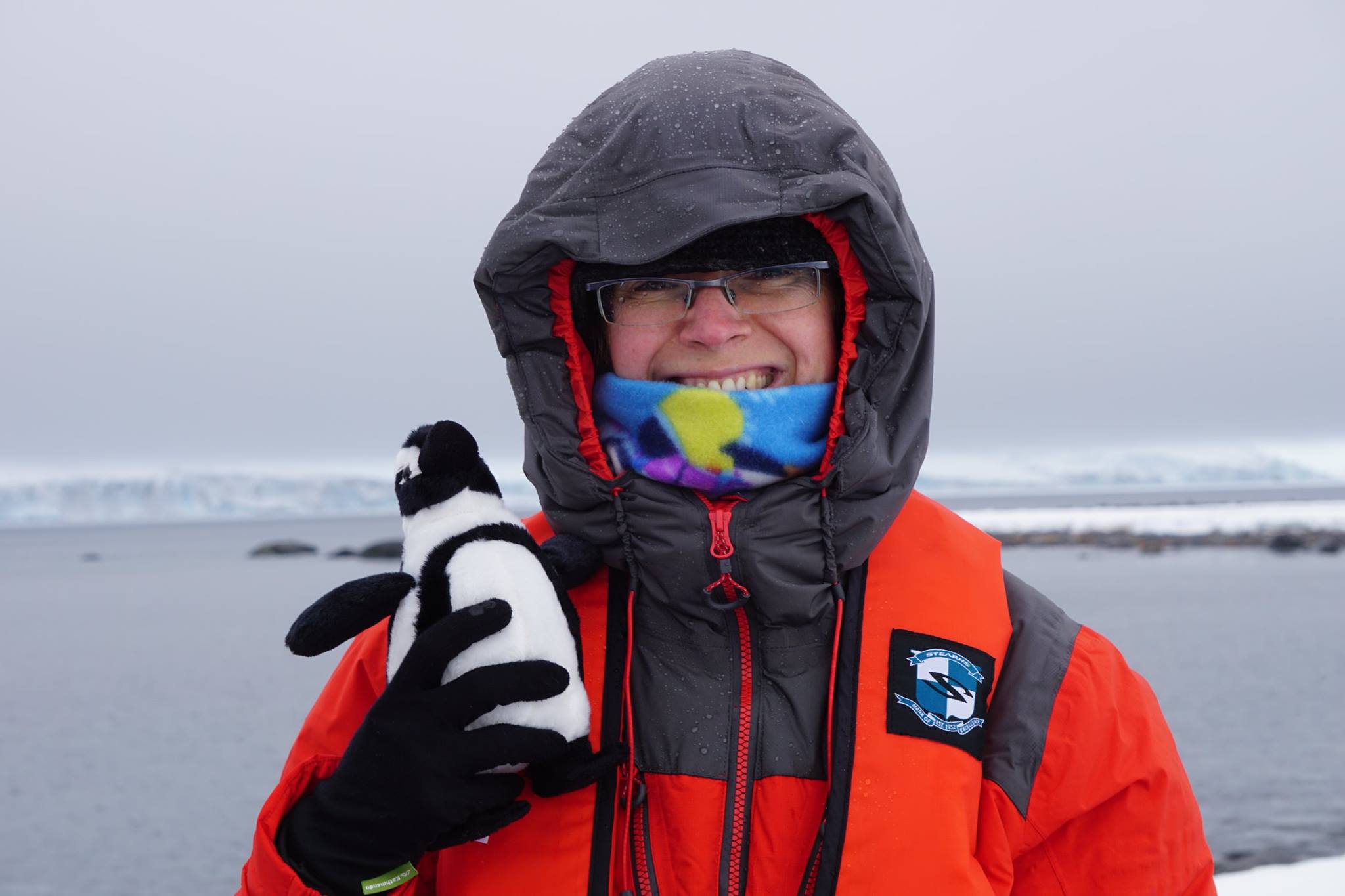 Sarah Brough is an observational astronomer whose research focuses on how the most massive galaxies in the Universe grow over time. She undertook her PhD studies at Liverpool John Moores University in the UK. In 2004 Sarah moved to Australia to work at Swinburne University and from 2009-2017 she worked at the Australian Astronomical Observatory where she has been involved in several major surveys of galaxies using the Anglo-Australian Telescope. As of 2017 Sarah is an Associate Professor at the School of Physics at the University of New South Wales and currently holds an ARC Future Fellowship.