I grew up in a somewhat small country city of Geraldton, Western Australia, spending most of my time exploring the beaches along the coast with my family, a lot of the time building my rock collection. I also spent my time talking with my grandparents about their history, which instantly developed into a passion to study the past. So, when I got to university it came down to one decision; rocks or history? I couldn't just pick one; so, I ended up studying both geology and archaeology. Little did I know, only a few years later I'd combine those two passions and pursue geoarchaeology.
I know many work as they complete their university education, but working as a fly-in, fly-out (FIFO) geologist while completing my Honours full-time was a challenge. What I learnt though, is that these challenges are so much easier when you are pursuing something you're passionate about. This was also my first experience working on a mine site; a 20-year-old woman stepping into a man's world. Luckily for me, I worked with great people. They took the time to teach me and when I finished my Honours, they offered me a full-time job. I also continued research- related work on South Africa hominin sites as a geoarchaeologist, while working as a mine geologist in between. I knew that I wanted to pursue geoarchaeology further, but I also knew pursuing your dream is a marathon; not a race. So, I was willing to do what I needed to do to support myself, gain confidence and take this opportunity while it was there. Although it was not my dream job, working in mining was so fulfilling in so many ways.
First, I started off at the bottom of the geology food chain, essentially shovelling rocks into bags. However, it gave me an opportunity just to learn, listen to instructions and work hard. I'll admit, at times it would be overwhelming; being young and a woman. Everyone would turn and look if you walked into a room, or go quiet for a minute when you'd join the conversation. It always made me wonder what they were talking about, but I never asked. Then, after six months I was given a promotion. After that things started to become more difficult. I was given a professional responsibility that I never had before. I had to make decisions and tell people what to do or how to do their job. Being a young woman then, certainly made life a little harder. I began getting questioned often and getting called "princess" in formal meetings. I knew part of that was due more to my age, than being a female. But then you'd see a young male engineer start and he would become "one of the team" within a week, it became a little disheartening.
Once my senior was made redundant and I was the only geologist on my swing, the responsibility grew again. This was perhaps the greatest opportunity of my career so far. I was thrown into the deep end and was told I'd either sink or swim. And I swam. In the beginning, it was not easy, but it became easier as the time went by. Just after starting to feel like I'd got there, I was asked by my previous boss to move jobs.
This mine was underground and in gold, two things I had no experience in. I used what I learnt from my last position for the first while and just sat back, listened and worked hard. A lot of the time, I was the only female at my site. Those early 13 hour shifts were some of the toughest in my life; both mentally and physically. Eventually, my confidence increased; I learned from my colleagues and my superiors, who gave me opportunities to step up. Sadly, there were always people who treated you differently; condescendingly calling you a pet name or telling you to go clean the toilets; "as that's your real job". However, I am thankful for those types of people in this world, as all they did was put fire in my belly to prove them wrong…! I also learnt to remember that for every one of those people, you have 10 more encouraging and supporting you. They are the ones to keep by your side!
Today, I am still on that marathon that I started years ago. I resigned a good job; one I'd worked hard to move up in and feel well-respected in, moved to the other side of the country to pursue that dream of mine. I am now a PhD candidate, working with internationally renowned professors on early hominin evolution sites in Africa. I perhaps jumped into the deep end (again), but I now have the confidence I didn't have when I was 20. I've learned that it's not intelligence that separates the greatest achievers in the world; its persistence. I fundamentally believe there are so many challenges and hoops to jump through for women, in many different professions. This is slowly changing and the world will keep changing with it. Just keep that fire in your belly and most importantly, be persistent.
About the author: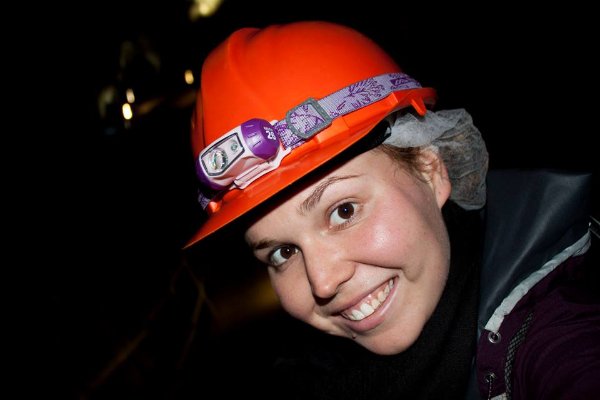 Ashleigh Murszewski is undertaking her PhD at the The Australian Archaeomagnetism Laboratory & LTU Archaeophysics, La Trobe University; studying regional karst frameworks in ancient hominin sites throughout South Africa. Undergraduate qualifications in geology and archaeology, with commercial experience in Iron Ore and Gold commodities within the Western Australian mining industry. Published works specialising on geoarchaeological applications on sites within Western Australia and South Africa. Currently living in Melbourne, Victoria (home town: Geraldton, Western Australia). It is an honour to be able to write a blog for Women in STEMM Australia. I have been watching this organisation closely and I am very excited to see it grow and benefit women from all backgrounds; women wanting to chase their dreams, just like I've been given the opportunity to!